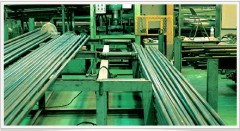 Torich Interational Co.,Ltd is a professional manufacturer and exporter of steel pipes materials. The company's technicians are of great engineering experience in steel pipe industry for more than 20 years, which are in great command of production technology for Cold Drawing and Cold Rolling. So we have strong technician team and manufacturing capability.
Our steel pipes cover the following ranges:
Seamless Precision Steel Pipes
Welded Precision Steel Pipes
Seamless Heat Exchanger Steel Pipe
Seamless Boiler Steel Pipes
Seamless Structural Steel Pipes
Seamless Mechanical Steel Pipes
The size range is: O.D. 4-320mm, W.T. 0.5-30mm, Length maximum 18 meters.
We focus on Quality Traceability, Stability!
Welcome to send us your enquiry, we will send you prompt quotation with best price!