Fiber Optic Splice Closure Description
Payment & Shipping Terms
Payment Term:
T/T,L/C
Means of Transport:
by sea by air etc…
Supply Capacity
Packing:
10 pcs in one carton
Features
1.Easy to re-enter, it never requires re-entry tool kit.
2.The strong housing provide fire resistant, waterproof and quakeproof while
protecting splices during pulling, torsioning and impacting
3.Design flexibility and high reliable sealing system
4.Cable sealing method: mechanical type

product name:fiber optic splice closure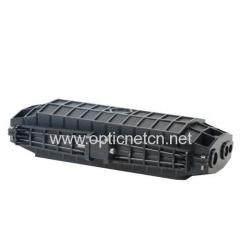 Applications

1.It can be used in straight-through and branching application
2.It can be used in aerial, underground, directburied, wall-mounting, hand-hole and duct-
mounting application

Ordering Guidance
Model No.

Fiber Optic SpliceTray

(FOST)

Total Capacity

(fibers)

Dimension

(LxWxH)mm

Cable Entry and Size

GPJ-02HA I

1- 4 pieces of FOST with12 or 24 fibers per tray

48 or 96

410x200x110

2 ports with max.

Φ16mm

GPJ-02HA II

1- 8 pieces of FOST with12 – 24 fibers per tray

96 or 192

410x200x160

4 ports with max.

Φ20mm

AccessoriesAccessories provided with the FOSC: seal tape, insulation tape, special wrench, hanging hook,emery paper, earthing wire, nylon tie, labeling paper, measuring paper, dry agent and buffer tube
Accessories to be ordered in addition: pressure testing valve, earthing ground.
Fiber Optic Splice Closure has been presented above, want more similar products, please click optical splice enclosure,splice enclosure.
Our Fiber Optic Splice Closure is good in quality and competitive in price. We manufacture Fiber Optic Splice Closure and supply OEM, ODM service according to your requirement.
If you want more detailed information of this product or related problems, please contact with us, we will reply as soon as possible (general in 24 hours).
Category: Inline Type Fiber Optic Splice Closure