security paper, food wrapping paper, fruit protection bags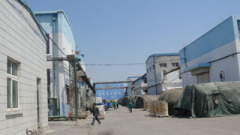 Laiyang Yintong Paper Co., Ltd. is located in Laiyang, Shandong Province and is easy to access, because it is near to the harbors and airports of Qingdao and Yantai.
Our company is a member of the China Trade Association for Anti-Counterfeiting and China Anti-Counterfeit Technology Association. We enjoy independent import/export rights.
We mainly produce all kinds of security paper (such as watermark paper, visible and invisible fiber paper, chromatographic fibers paper and security thread paper), food wrapping paper and various fruit packaging paper bag and high-grade culture paper.
Watermark paper: watermark paper is the perspective paper with relief and touchable pictures. Watermark anti-counterfeiting technology is used in nearly all banknotes in the world. Since watermark cannot be reproduced with photocopier or scanner, it has quite good effect in anti-counterfeiting.
Security thread paper: our company mainly produces full-burying security thread paper and interrupted burying security thread paper (window security thread paper for short) are manufactured. And the safety siding watermark paper can be manufactured by combining watermark with safety siding. Fibers paper: Fiber paper is made by adding colored (red, blue, etc.) fiber or colorless fluorescence fiber into the paper pulp so that colored or colorless fiber that is different from the paper itself is shaped in the paper. Fiber added into the paper pulp can be divided into colored fiber and colorless fluorescence fiber. The former type is visible with naked eyes on the surface of the paper, and the latter one is only visible under the ultraviolet rays with the colors of red, blue or orange, etc. They can be thick or thin, short or long. Fiber usually distributes in a random way, therefore the density is different in different places.
Food packing paper: our food packaging paper consists of chopstick packing paper (high-grade, seamless sealing, and one-side packing), sweet packing paper, oil-proof paper in (high-grade, middle-grade, low-grade), and bag-type cup paper, milk packing paper, coated paper and paper towels. The upper-quality oil-proof paper is a substitute for cooking popcorn in microwave ovens; mid-grade oil-proof paper is for packing or holding oily foods.
Fruit packaging paper bag: The countries advocating environmental protection like Australia, India, Brazil, Thailand and Vietnam are using the banana paper bag. It is popular in China and is taking the place of the plastic bags gradually.