Thank you for the support on my blog,
light curtain for Toshiba Description
Payment & Shipping Terms
Unit Price:
92.0~100.0 USD
Payment Term:
T/T,L/C,D/A
MOQ:
20 unit
Means of Transport:
Ocean
Supply Capacity
Production Capacity:
10000units/month
Packing:
paper tube each unit,…
Delivery Date:
half a month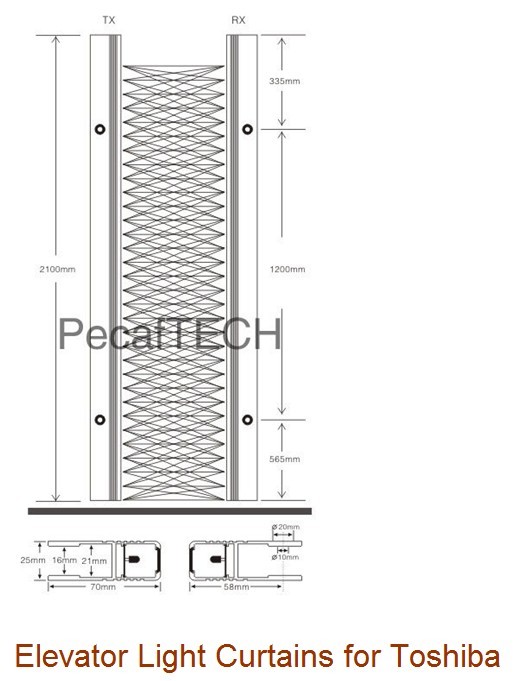 Items

Technical Parameters

Beams Number

154 beams (infrared)

Sensors Number

32 pairs (refer to pictures)

Sensors Interval

58.8 mm (refer to pictures)

Beams Center Points Interval

10.5mm/11.5mm (refer to pictures)

Scanning Form

Line by line

Response Time

61msec(relating to detecting points of scanning cycle)

Detecting Height

25-1860mm

Detecting Range

0~5.0m moving door

Light Immunity

100,000lux(visible light)

Allowable Deviation Angle

≤10°

Allowable Deviation Position

Vertical: ±10mm/7°

Horizontal: ±5mm/5°

Protecting States

Cable fault

Power fault

Current Consumption

Less than100mA

Protection Grade

IP65 standard

Ambient Temp.

-20°C~ +70°C

Storage Temperature

-40°C~ +80°C

Other functions

One transmitter is shielded after 120s' blocking

Indicator

Power (green LED)

System fault/beams blocked(orange LED)

Shell Material

Aluminum alloy surface of anodizing (black)or

matt spray plastic(black)

Shell Cover (light filter)

Embedded installation of infrared penetrating

for blocking off non-infrared

Authentication

CE(EMC)

Working Voltage

12V(8V~30V)

Power supply

220VAC or 24VDC
Light curtains are supplied as a pair with a transmitter and receiver. The transmitter projects an array of parallel infrared light beams to the receiver which consists of a number of photoelectric cells. When an object breaks one or more of the beams a stop signal is sent to the guarded equipment.
light curtain for Toshiba has been presented above, want more similar products, please click LICHISCHRANKE.
I hope you a lot less than that